Are You Ignoring What Your Data Is Telling You?

The Fleet of the Future, Part 2: How can data help predict fleet demand?
Telematics—a word that didn't exist until a few short decades ago – is now commonplace technology and a valuable tool in the trucking industry.
In fact, trucking companies that effectively mine the data generated by their operations can improve margins, reduce downtime and free up capital to invest in other areas of their businesses, according to experts speaking at the Fleet Data Management & Cybersecurity Conference hosted by the Technology & Maintenance Council of American Trucking Associations.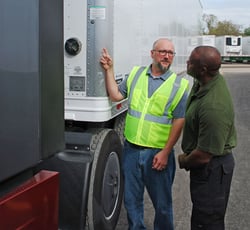 "You guys are already swimming in this stuff – the internet of things and the data," said Steve Chaffee, director of fleet innovation, research and development for Hitachi Group. By leveraging data culled from their telematics systems and other technologies, carriers can wring an 80% average improvement in three-year operating margins, according to Chaffee.
Use the past to predict the future
Such information is useful not only for analyzing current fleet operations, but also for planning for the future. "If we have better information sooner, we can plan our operations and create efficiencies in multiple areas," said Braden Pastalaniec of Uptake, a Chicago-based artificial intelligence company that focuses on carrier and equipment applications.
Every fleet operator has access to rich streams of data coming from tractors, drivers, fleet management systems and service records. These can be used to analyze past events, monitor current operations and reveal trends and patterns that should be used in planning and making projections for the future.
Your trailers are loaded
The same goes for trailers. Premier trailers provide abundant, valuable streams of data. The trailers you own should also. You can use this information to help you forecast future demand for trailers.
Premier trailers make it simple to determine the utilization rate. FleetLocate® trailer tracking technology coupled with our client dashboard reveals how much you used the trailers. Where they traveled, and when. When and where they sat idle, and for how long. IntelliScan® cargo sensing technology can even tell you when trailers were detained at a shipper's location awaiting unloading, when they were empty at a destination ready to be picked up, and whether they were traveling with a full load or deadheading. Real-time GPS data provides cost-per-mile analytic reporting.
Gather and analyze the same data from the trailers you own. What is their utilization rate? Seasonality? Geographical areas of operation? Total cost per mile?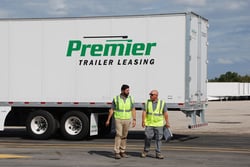 We want you to lease more trailers. Or less.
If you find that trailers you own have periods of inactivity or reduced usage, you may be able to trim the size (and cost) of your owned trailer fleet, and lease trailers as needed to meet demand. Or, if you find you have shorter periods of high demand due to seasonal or temporary needs, perhaps short-term rental trailers would make more sense.
On the other hand, you may find that total operating costs can be improved by reducing your fleet overall, so you can glean greater efficiency from your remaining trailers.
No matter what your data tells you, Premier is here to help. We have high-quality, well-maintained new and used trailers of every type, ready and available whenever and wherever you need them. But we also provide valuable information to help you make the best decision – even if that means leasing fewer trailers.
We want to be the partner you can always turn to, knowing that we'll help you make your operations more profitable and efficient. In the long run, that benefits all of us. Contact us to see what we can do for you.