What to know & how to take care of them.
By Tim Ifland, Vice President of Specialty Equipment
Tires typically account for 20% or more of a fleet's maintenance expense which make them a critical component of any fleet.
If there are 3.5 million class 8 trucks moving about our highways and byways, and each truck has, on average, 18 tires per truck - then there are about 63 million truck tires rolling across America! That's a LOT of tires to manage…
Monitoring the portion of the tire population you're responsible for can be a daunting task. However, if done properly and with automation, it can pay great dividends. At the same time, automation is not the silver bullet of all tire problems.
Let's dive in.
Which tires are right for your trailers?
Keeping tires rolling with Tire Pressure Management Systems
It's still important to have a tire maintenance plan
Which tires are right for your trailers?
First, let's take a look at some of the different types of tires and where and how you may want to use them. Tire types are based on load rating and use case. For example, steer grade tires are found at the front of the tractor while drive tires are connected to truck axles. And then there are trailer tires found at the rear of the trailer. These are usually low-roll resistant. There are no "seasonal" versions of them, however numerous grades are available to choose from. 
So, the good news is trailer tires are pretty simple to manage. If you operate a regional trucking operation you will likely have different tires on your trucks than a long hauler would. However, when it comes to your trailers, tires will be pretty much the same. They are designed to hold the load and meant to be low-rolling resistant. But that does not mean you can use any type of tire for your trailers. Stick with the trailer tires of your choosing and you'll be good to go.  
Keeping tires rolling with Tire Pressure Management Systems
Tire Pressure Management Systems (TPMS) are often used in truck fleets and sometimes with truck trailers to monitor tire pressure. Tire pressure varies over time, due to environmental conditions or thanks to leaking tires. Damaged or low-pressure tires pose a hazard for drivers, other travelers, the cargo, and delivery timelines so keeping a close eye on them is an essential part of fleet management. TMPS can help optimize the process.
In addition to TPMS, tires are sometimes outfitted with tire inflation systems which correct any leak and maintain pressure to avoid a tire rupture or blowout, which could result in significant subsequent damage to the trailer or vehicle.
Most direct measurement systems have pressure and temperature sensors in each tire, usually attached to the inflation valve. They broadcast their data to a central receiver or an antenna that transmits the data to the control module, which analyzes them and sends appropriate signals to a display. This display can be as simple as a single telltale, or as complex as pressure and temperature displays for all tires. 
Direct measurement systems' advantages include much greater sensitivity to small pressure losses ranging from a differential of 0.1 psi to 1 psi. They also afford the ability to directly measure pressure in any tire, including the spare tire.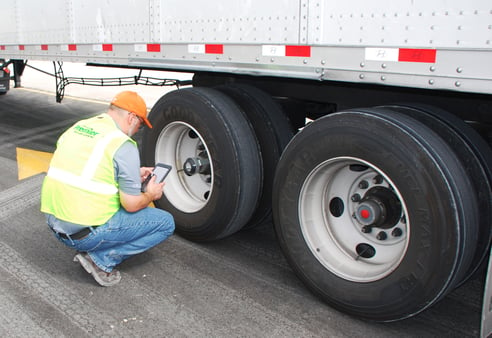 The disadvantages include added cost as well as maintenance problems when tires are taken on and off the rim as sensors may fail. In addition, faulty sensors may give no indication of a false indication of some problem with the tire pressure.
Not all trailers are outfitted with tire inflation systems. At Premier Trailer Leasing, for example, they are available upon request on leased units at an added charge. The focus should be on why they are required and make sense for a specific trailer - but it's important to be aware of potential problems with them if you rely solely on the TPMS and tire inflation systems as your central means of managing a maintaining tire.
TPMS Systems available today
There are many different types of TPMS configurations offered by vendors and tire manufacturers.  Continental Tire, for example, is one of the largest automotive suppliers and tire manufacturers in the world and offers sophisticated TPMS with digital monitoring of all connected tires. Its ContiPressureCheck® tire pressure monitoring system (TPMS) may be digitally wired to the Road Ready™ trailer telematics system by Truck-Lite Co., LLC. The system is part of having a "smart" trailer by continually monitoring and transmitting crucial data to a user interface. This allows fleets to improve safety, reduce roadside service calls, extend tire life, reduce tire maintenance costs, and avoid CSA violations, ensuring they can safely deliver payloads on time to their destination.


Tire pressure data is transmitted to the cloud.  It may then be viewed on the Road Ready user interface. This provides tire pressure and temperature data into the trailer telematics dashboard for anyone with an internet connection. 


The intent of such technology is to provide visibility and control of trailer tires. This can result in safer operations and reduced maintenance and equipment cost.  Promptly identifying and resolving tire issues can avoid long-term damage and increase the life cycle of a tire and its performance and operation.


Other tire manufacturers continue to improve tire pressure monitoring with enhanced solutions that help fleet operators get a better grip on tire pressure and condition.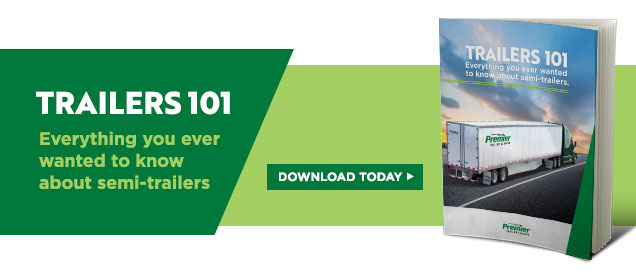 The Goodyear CheckPoint, is another example of available technology that helps fleet operators remotely monitor tire conditions.  Using this design, a drive-over-reader device automatically inspects tire pressure and tread depth and sends readings to fleet managers. The in-ground device automatically scans passing trucks and triggers alerts to fleet maintenance teams if there are any immediate tire concerns that require attention, such as low pressure or tread wear. This solution enables large numbers of vehicles to be inspected efficiently and offers a frequently updated snapshot of a fleet's overall tire program health.


Sensata is yet another vendor offering a TPMS solution used widely for trucks and trailers in Europe and China.  It is a complete system consisting of wireless sensors, receivers and an Electronic Control Unit (ECU) that communicate with the vehicle and provides tire pressure and temperature monitoring set to comply specifically with regulations and compliance with set tire parameters. It's designed  to reduce roadside tire events, automate tire checks, improve tire life and increase vehicle fuel economy. The automated system is meant to make it easiest on operators and fleet managers, providing them with useful information from reliably hardware installed on the tire.

 There are many more vendors of TPMS designs as well. In summary, all technologies can be used for the good of the tire performance, its safety, and overall operation. 
It's still important to have a tire maintenance plan.
 When reviewing the addition of tire inflation systems to their operations, fleet managers may believe that they will no longer need to perform tire maintenance or be concerned about the health of their tires anymore. But nothing could be further from the truth.
While the benefits of TPMS are that they will alert a driver and dispatcher of an impending problem and can keep drivers from being forced off the road in a dangerous situation, if fleet managers rely on them too heavily problems will arise. By neglecting tire maintenance programs and not enforcing Pre- and Post-Trip inspections, fleet managers can create problems down the road.
A tire inflation system will always be able to get a tire to inflate that has a nail or screw or another object in it.  But keeping it inflated and not properly repairing a puncture causes damage to the tire. The solution? Check tires regularly and address any issues promptly. Tire MFG standard guidelines note that any tire underinflated by 20 PSI or more should be dismounted, inspected, and repaired. Establishing a tire maintenance plan to catch issues early is simple and can easily be performed by a tire vendor who can check tires as well as an inflation system on your yard on a recurring basis such as weekly.
With tires typically accounting for 20%+ of a fleet's maintenance expense and their ever-increasing cost, not having an effective tire maintenance program can and will be a major detriment to a company's bottom line. By combining latest technology with tried-and-true manual inspections however, your fleet will be on a roll!
Your resource for information
At Premier Trailer Leasing, we strive to make your day better, whether that's through supporting our customers with our national branch network, our large growing fleet and flexible approach to leasing, or by sharing our experience and expertise. Give us a call if you'd like to discuss other ways we can be a resource for you.

Tim Ifland is Vice President Specialty Equipment for Premier Trailer Leasing and an industry veteran. His 35 years of trailer industry experience includes branch operations, sales management, procurement, product SME/sales training, account management and branch equipment services including warranty, quality control, breakdown services, tires, maintenance and safety.

Tim Ifland