With stricter regulations and increased environmental awareness in California, companies that want to haul refrigerated freight within the state need to be aware of the latest amendments to the California Air Resources Board (CARB) Airborne Toxic Control Measure (ATCM) regulations that were originally adopted in 2004 and are aimed at improving air quality standards.
This can be a daunting task, as it requires significant investments in your time, equipment, and resources. To keep your fleet in tip top shape, b
elow we have summarized the lat

est
2022 Amendments for you.

1. Lower global warming potential refrigerant

Newly manufactured truck transport refrigeration units (TRUs), trailer TRUs, and domestic shipping container TRUs must use refrigerant with a global warming potential (GWP) less than or equal to 2,200, or no refrigerant at all.


⭐ Premier Perk: Our partner Thermo-King became the first manufacturer to transition to the new GPW refrigerant now known as R-452a in January 2022.


2. More stringent PM emission standard


Model year 2023 and newer trailer TRU, domestic shipping container TRU, railcar TRU, and TRU generator set engines have to meet a PM emission standard of 0.02 grams per brake horsepower-hour or lower. This aligns with the United States Environmental Protection Agency Tier 4 final off-road PM emission standard for 25-50 horsepower engines.


⭐ Premier Perk: Our partner Thermo-King - the innovators of transport refrigeration (1938) - made a bold commitment to meeting these more stringent requirements over a decade ago when they introduced their Precedent S-600 Evergreen refrigeration unit that Premier is transitioning to in 2023.

3. Requirements for vehicle owners and drivers

Owners of trucks or tractor-trailers with a TRU are required to ensure their TRU is compliant. If requested, drivers have to allow CARB personnel to conduct a visual inspection of their TRU.

⭐ Premier Perk: All Premier TRUs are registered with CARB and receive a CARB IDN which is placed on the unit. Enforcement officers can quickly enter the IDN into their system to confirm compliance. This way delaying (and aggravating) your drivers in the case of an inspection can be avoided.


4. Applicable facility requirements


If you own a refrigerated warehouse or distribution center with a building size of 20,000 square feet or greater, a grocery store with a building size of 15,000 square feet or greater, a seaport facility, or intermodal railyards with TRU activity you now have to register the facility with CARB, pay fees every three years, and report all TRUs that operate at your facility to CARB quarterly. Alternatively, you can ensure that only compliant TRUs operate at your facility (i.e., those with a valid CARB compliance label or showing as compliant on CARB's website).


⭐ Premier Perk: All Premier TRUs are registered with CARB, so we can quickly provide the necessary data to assist our customers and the end user as needed.


5. Expanded TRU reporting


Later this year, TRU owners will have to report to CARB all TRUs (including out-of-state based ones) that operate in California.


📝 Premier Note: All new 2023 reefers at Premier are compliant across all states to give you peace of mind no matter where you haul.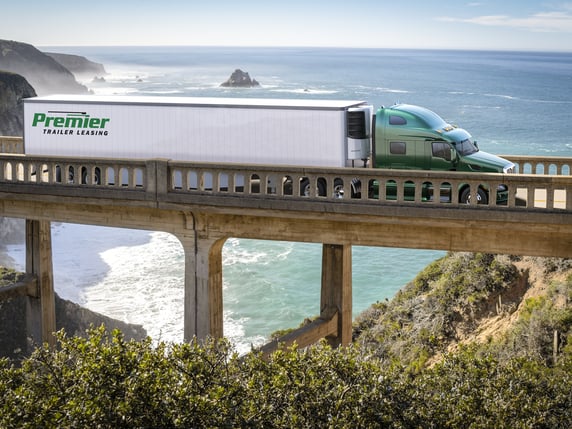 6. TRU operating fees and compliance labels

Additionally, later this year, TRU owners will have to pay a new operating fee. Simultaneously CARB compliance labels will have to be affixed to your TRUs every three years, for each TRU operated in California.


⭐ Premier Perk: Here at Premier, we have attached CARB compliance labels to our equipment for years.


7. Zero-emission truck TRU requirements

TRU owners will have to turnover at least 15 percent of their truck TRU fleet (defined as truck TRUs operating in California) to zero-emission technology each year (for seven years). All truck TRUs operating in California will have to be zero-emission by December 31, 2029

8. Zero-emission truck TRU assurances

OEMs of zero-emission truck TRUs will be required to provide a comprehensive warranty for zero-emission truck TRUs and have an authorized service-and-repair facility located in California to perform warranty repairs.

9. Compliance extensions due to private financing, equipment manufacture delays, or installer delays

Compliance extensions due to private financing, equipment manufacture delays, or installer delays may be granted for a maximum of six months (previously four months).

⭐ Premier Perk: Delays or not, Premier will have compliant TRUs available for our customers.


10. Requirements for lessors and lessees


TRU owners (lessors) may delegate compliance responsibility to the TRU operator (lessee) if the rental or lease agreement is for a period of one year or longer.

⭐ Premier Perk: Here at Premier, we believe in making our customer's lives as easy as possible. That's why we have already done the heavy lifting for you by registering all of our units with CARB and affixing the compliance labels. All that will be left to do is reporting which TRUs operate in California, and we'll have reporting available to assist you with that as well.
Want to learn more about reefers? Check out our post on reefer maintenance.

Tim Ifland is Vice President Specialty Equipment for Premier Trailer Leasing and an industry veteran. His 35 years of trailer industry experience includes branch operations, sales management, procurement, product SME/sales training, account management and branch equipment services including warranty, quality control, breakdown services, tires, maintenance and safety.

Tim Ifland
References
Still have questions or need assistance?
Contact our team today!