We know that a reefer is a trailer that maintains temperature and humidity to keep your load in a consistent environment. Reefers are typically used for food items, pharmaceuticals, electronics, plants and overall, for needs related to temperature control. Great – so what then is a reefer liftgate?
What's a Reefer Liftgate?
Reefer liftgates, also known as refrigerated liftgates or freezer liftgates, are specialized equipment that are commonly used in the transportation of temperature-sensitive goods such as food, pharmaceuticals, and electronics. These liftgates are designed to provide easy and safe access to the rear of a refrigerated truck or trailer, allowing for efficient loading and unloading of goods that are need at the ground level.
What is the Purpose of a Reefer Liftgate?
Reefer liftgates are essential for businesses that transport perishable goods because they help ensure the integrity of the cargo by maintaining a consistent temperature throughout the transportation process. Without a reliable liftgate, workers would be forced to manually lift heavy and bulky cargo into and out of the truck or trailer, which can be a dangerous and time-consuming process, potentially leading to workman's comp claims.
Types of Reefer Liftgates
There are two main types of reefer liftgates: The most common style liftgates used are the column/rail lift and the tuck-away liftgates. Column lifts generally have the highest lifting capacity and the largest platforms, while a tuck-away style gate can be stowed below the floor of the trailer and built to accommodate a dock restraint system for easier dock loading/unloading.

Considering a Liftgate
Two important considerations when choosing a reefer liftgate is the weight capacity and platform size. Liftgates are rated to lift a certain amount of weight, and it is important to choose a liftgate that can handle the weight of your cargo, plus a pallet jack and your driver. It is also important to consider the platform size of the liftgate to insure it will properly accommodate your load, pallet jack and a driver. Don't forget to add a top header kit to the reefer liftgate, as this will help seal up the rear of the trailer when backed against a refrigerated dock to limit temperature loss.
Safety Aspects
Another important consideration is safety. Liftgates can be dangerous if not used properly, so it is important to ensure that workers are properly trained on how to use them. Workers should always follow the manufacturer's instructions for safe operation and periodic maintenance and should never exceed the weight capacity of the liftgate.

In conclusion, reefer liftgates are an essential piece of equipment for businesses that transport perishable temperature sensitive goods. They help ensure the safety and integrity of the cargo, while also providing an efficient and safe way to load and unload the cargo when a dock isn't available. When choosing a reefer liftgate, it is important to consider factors such as weight capacity, size, and safety to ensure that you choose the right liftgate for your specific needs.

Your resource for information - At Premier Trailer Leasing, we strive to make your day better, whether that's through supporting our customers with our national branch network, our large growing fleet and flexible approach to leasing, or by sharing our experience and expertise. Give us a call if you'd like to discuss other ways, we can be a resource for you.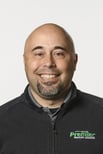 Meet Brian Webb, Premier's fleet management expert with over 8 years of experience in the transportation industry. As Operations Manager for the Houston branch since 2019, Brian oversees various equipment types and ensures safe and efficient transportation of customer cargo.
Brian Webb