Trade Wars, Tariffs and Trucking: How to Cope with Roller Coaster Market Conditions

Premier Trailer Leasing offers solutions to help you optimize your fleet and navigate changing demands.
Following a year of record levels of freight-hauling demand and driver pay in 2018, industry analysts were forecasting a slight cooling of the market this year. That was before factoring in a trade war, tariffs and currency valuations that affect imports, exports and shipping.
Additionally, the FTR Transportation Intelligence has noted concerns about wild swings on Wall Street and the slowing of world economic growth, especially in China and Europe. Economists are also looking carefully at factors that could hurt the shipping and trucking industry, most notably the trade dispute between the U.S. and China – the world's No. 1 and No. 2 economies.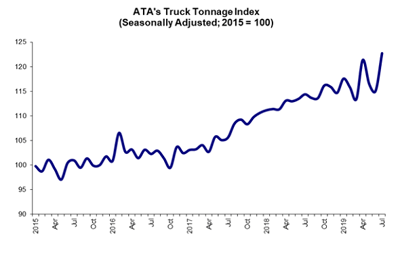 American Trucking Associations Chief Economist Bob Costello observed, "Tonnage in 2019 has been on a rollercoaster ride, plagued with large monthly swings, which continued in July as tonnage surged after falling significantly in May and June." He also noted that ATA's tonnage data primarily reflects contract freight, which is performing significantly better than the plunge in spot market freight this year.
In these uncertain, shifting conditions, predicting the next move in international trade may be impossible, but Premier Trailer Leasing offers solutions to help fleet managers cope with changing demands.
Optimize your trailer fleet size
Empty, idle trailers generate no revenue. But not having enough trailers to meet upswings in demand also leaves money on the table. In times of fluctuating demand, renting and leasing trailers from Premier gives you flexibility to scale your fleet to take advantage of changing market conditions and to reduce capital and operating expenses. And, renting or leasing trailers is a cost-effective way to upgrade your fleet to the latest equipment and technology even if you own enough trailers to meet demand.
Maximize fleet operating efficiency
In a market made volatile by changing trade regulations and tariffs, it's more important than ever to be efficient with the trailers you have on the road. Trucking firms have gone out of business at an alarming rate in 2019. Industry analysts cite tariffs as a major factor in reduced demand and lower prices, while many costs such as driver pay and expansion-related expenses have largely stayed at 2018 levels. In a lean market, every penny counts.
Premier offers the industry's most advanced technology and equipment that can make a difference in fleet operating efficiency.
Keep your drivers happy
Even as changing government policies and regulations contribute to fluctuating economic conditions, one aspect remains: ATA estimates that the industry continues to have a shortage of more than 60,000 drivers. To fill positions, many carriers have used tactics such as raising driver pay, increasing bonuses, and offering incentives ranging from college tuition to stock ownership.
Premier offers solutions that can improve driver satisfaction and contribute to driver retention – reducing the high costs of driver turnover and replacement.
FleetLocate trailer tracking and IntelliScan® cargo sensing technologies lead to more efficient trailer assignments, more billable hours and more satisfied drivers.
Handheld mobile device with instant access to trailer information speeds up the trailer check out and return, getting your driver off the lot and back on the road quickly.
Accurate maintenance records and well-maintained equipment reduce a driver's down time for service calls and repairs.
Trailers equipped with air ride suspension offer comfort on the road that drivers appreciate.
In every type of operating environment, Premier has solutions that will take you farther
At Premier, we're dedicated to providing our clients with competitive advantages, so we continually invest in the industry's leading technology, systems and components – all designed to optimize driver efficiency and our clients' revenue in any type of market conditions.