Are Idle Trailers Killing Your Profits? Learn How Cargo Sensing Can Boost Utilization
Cargo-sensing technology from Premier Trailer Leasing can improve trailer utilization and driver retention.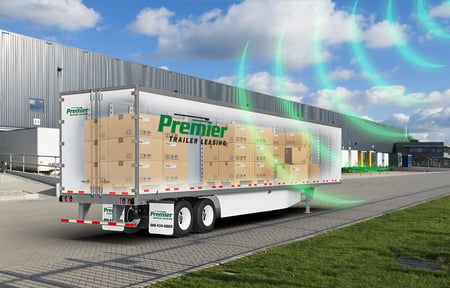 Cargo-sensing technology is a hot topic in the trucking industry. The simplest, most basic reason is that an empty trailer sitting idle isn't making money for anyone. Carriers of all sizes are looking for opportunities to optimize their trailer utilization, and cargo sensors help speed the cycle of delivery, unloading and getting back on the road. Premier Trailer Leasing is at the forefront, helping our customers benefit from the latest and most powerful cargo-sensing technology available.
Improved trailer utilization
One industry observer noted that a fleet's trailers previously averaged 10 to 11 days idle per month. Following the addition of cargo sensors, the average dropped to 8 to 9 days, a 20% improvement in utilization. This is because fleet managers, with timely and accurate location and cargo status, can make quicker and more efficient trailer reassignments and improve their pool management.
Cargo sensing also improves turn time at destinations. Instead of waiting for the freight receiver to call the hauler and inform them that the trailer is unloaded and ready to pick up, the fleet manager can tell immediately if the trailer is full, being unloaded or empty, and get the trailer back on the road. In addition, trailers with cargo sensors often get moved to the front of the list for unloading because shippers know they will be billed for detention time if a trailer is held unnecessarily.
Greater driver satisfaction and retention
Incomplete information or errors in trailer assignments result in non-billable miles for a driver to get to alternate trailer locations. Understandably, this causes driver frustration that can also lead to increased turnover. Cargo-sensing technology leads to more efficient trailer assignments, more billable hours and more satisfied drivers. It also reduces the cost of fuel and other resources required by driver misses and reassignment.
Premier features superior cargo-sensing technology
Premier provides customers all the benefits of cargo sensing with IntelliScan®, the industry's most advanced sensing technology. IntelliScan, provided by Spireon, our partner who also provides FleetLocate, uses a combination of sensing methods including optical imaging and laser time-of-flight to provide a precise picture of a trailer's contents, significantly superior to the ultrasonic sensors used by other providers. Premier's system scans an entire 53' trailer accurately and reliably, and senses varied loads, including hard-to-detect soft cargo like carpet or paper. It also provides accurate load detection even in extreme weather conditions.
And our IntelliScan cargo sensors are solar powered and designed to last the life of a trailer. The sensors can receive over-the-air updates as technologies develop.
Commitment to continuous improvement and innovative technology
At Premier, we're dedicated to continuously providing our clients with competitive advantages. By the end of the year, IntelliScan cargo sensors will be available on all late-model dry vans and lift gate trailers.
Premier's philosophy is to invest in systems and components such as air ride suspensions, trailer tracking, aluminum roofs, Purkey's charging systems, lift gate battery monitoring, two-way refrigeration monitoring and control, fuel sensors and solar panels - all designed to optimize driver efficiency and our clients' revenue.