Premier's Employees: Precious Cargo, Handle With CARE

Premier Trailer Leasing offers employees the 4 essential keys to unlocking job fulfillment.
When looking for employment, everyone has their own list of what they want out of a job. You might think salary is always most important, but you might be surprised.
"Money isn't the driver of job satisfaction," says Shawna Clark, founder and executive coach at Clark Executive Coaching. Clark says that employees value other things—things that drive employee engagement, satisfaction, and retention. And there are several recent studies showing that while money is important to employees and job candidates, it isn't necessarily the most important thing when it comes to employee happiness.
"People are looking for a healthy culture with values that are aligned to their own," says Clark.
Four keys to job fulfillment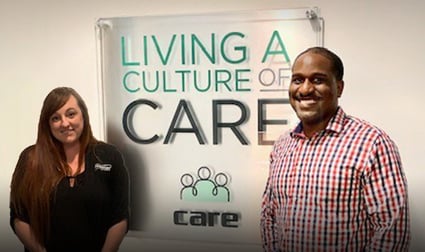 Premier Trailer Leasing has the corporate culture, values and environment that make it an employer of choice. Premier encapsulates our company culture with the word CARE, which stands for four defining attributes: Communication, Accountability, Respect and Empowerment.
Key #1: Communication
"This means that throughout the organization, we are open, genuine and transparent with each other," says Navolia Bryant, Premier's Chief People Officer. "The importance of genuine communication can't be overstated."
Business writer Sarita Harbour concurs. In her article "Boosting Employee Happiness: 5 Things Employees Value Above Salary," Harbour states, "Another important job aspect is the approachability of company or team leadership. Not only does this refer to the top positions, but an employee's immediate supervisor. Approachable leadership allows and even encourages employees to talk with their managers about everything from work issues to future career plans."
Citing the appeal of a company with open lines of communication, Premier CEO Jim AuBuchon observes, "A lot of the people that work for us today worked for large, bureaucratic companies, and they find it refreshing to work for us."
"I feel like my opinion matters and my voice is heard. I feel like I make a difference." – Premier Employee
Chief People Officer Bryant adds, "We position our employees for success by providing them with the training that they need as well. We set them up to do amazing things within the company."
Key #2: Accountability
"We are committed to excellence and working together to achieve common goals. We count on each other," Bryant continues. "Our entrepreneurial work culture sparks creativity at all levels, fostering a hospitable work atmosphere that encourages each employee to work individually and in teams to serve our customers."
"The people I work with genuinely care about the company and each other." – Premier Employee

"I feel empowered working at Premier because I've been given the ability to make my own decisions and manage my team effectively based on my experiences," said Derrek Hanes, a Regional Operations Manager. "And doing so, I can also empower my team, my employees, by giving them that same level of autonomy based on the training I've been able to give to them."
Key #3: Respect
"At Premier, this means we are honest team players who conduct ourselves in a way that does not intentionally offend, intimidate, embarrass or humiliate," explained Bryant.
Regarding respect and inclusion in the workplace, career coach Catherine Adenle explains, "When employees feel part of a team, it gives them satisfaction and confidence. They know they matter because their feedback, contributions, work and all are given the same focus as everyone else's. When employees feel isolated that they cannot be themselves at work, they will not engage fully as part of a team or partake well in an assigned work. Organizational leaders play an important role in setting the tone for the shift towards increased inclusiveness in organizations."
Harvard Business Review surveyed 19,000 people about their quality of life at work and found that survey respondents who felt they were treated with respect reported 56% better health and wellbeing, 89% greater enjoyment and satisfaction with their jobs, and 92% greater focus and prioritization. They also reported greater meaning and significance, and a higher level of trust and safety.
"Premier is a fast-growing company with a small company feel. I feel like even at a corporate level Premier treats their employees like family." – Premier Employee

Key #4: Empowerment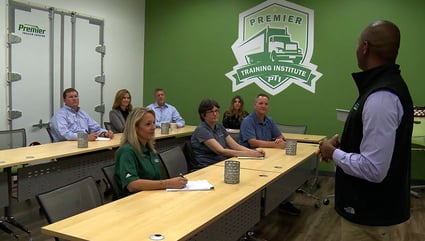 "We are confident that each team member has the ability to make decisions that benefit the company," noted Premier's Bryant. "We want our employees to feel empowered to bring solutions to the table."
"We foster an environment of creativity and innovation," she continued. "We position our employees for success by providing them with the training that they need as well. We set them up to do amazing things within the company."
Confirming the value of empowerment, the LaSalle survey of recent college graduates found that 71 percent of respondents said opportunity for growth was the number one factor when considering a new role.
"At Premier, I'm empowered to bring new ideas and improve processes while working with top-notch, good-hearted people." – Premier Employee
Chief People Officer Bryant also added, "We also ensure that our leaders do not put our employees in a position where they feel like they're being micromanaged and stifled."
But what about the money?
Although numerous studies show the lesser significance people are placing on monetary compensation, it undoubtedly remains an important consideration.
Premier CEO Jim AuBuchon addresses the issue simply: "We expect our people to make a lot of money, because if they make money then the company's making money."
In conclusion, he added, "If you want to join a company that has a tremendous working environment, where you can make good money and enjoy what you do, you should come here."
If you're interested in learning more about career opportunities at Premier, please visit our Careers Page.