Premier Employees Take CARE Culture Into Community

We give because we CARE!
The dynamic, people-centric culture of Premier Trailer Leasing can be encapsulated with the word CARE, which stands for four defining attributes: Communication, Accountability, Respect and Empowerment.
The purpose of CARE is to establish trusted relationships built on a culture of caring for our employees and the company. Our entrepreneurial work culture sparks creativity at all levels, fostering a hospitable work atmosphere that encourages each employee to work individually and in teams to serve our customers.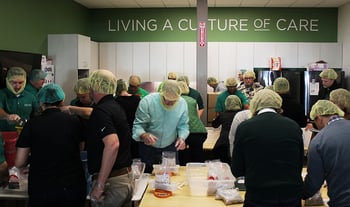 Ways to show our CARE
Premier employees take that spirit one step further – into the community. The whole year 'round, and especially during the holiday season, Premier people are engaged in volunteering and community service in such areas as:
A Food Drive with healthy team-building competitions raising 5,000 lbs. of nonperishable food for local food pantry
Premier Bears given to the sick and to those grieving due to the loss of a loved one to show our support and CARE during a rough time
10,000 pasta meals packaged and donated to a food pantry, homeless shelters and elementary schools

Volunteering has never been more rewarding
To facilitate our collective impact, we are introducing a Volunteer and Matching Gift Program starting in January of 2020. This will provide team members paid time off to volunteer and matching financial donations to charitable organizations that contribute to the social fabric of the communities in which we operate and beyond.
Volunteer Program
Employees will receive up to 8 hours volunteer time per calendar year.
All employees are encouraged to volunteer at schools or approved nonprofits.
Premier will also offer company-sponsored volunteer events.
A "Dollars for Doers" initiative will be offered to team members who volunteer for 30 or more hours, per calendar year, during their personal time. The company will then give a one time, $300 grant to that qualifying nonprofit organization.
Matching Gift Program
Premier Trailer Leasing will match up to a $300 gift per team member, per calendar year.
All donations to public charities, as well as public educational institutions, are eligible for matching.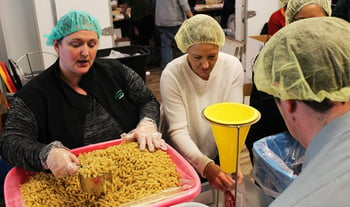 Our best is yet to come
Under the new program, there's a potential that our 185 Premier employees will volunteer for 1,480 hours of service in our communities in 2020. Through the introduction of our Volunteer and Matching Gift Program, we are excited to think of the additional impact Premier and our employees will be able to make for the people around us.
Serving each other, serving our customers, serving the people of our communities: it's all part of the way we CARE.