Everything You Need to Know About Premier's New Savannah Branch

In October 2020, Premier will open a new branch to serve the nation's 3rd-busiest port and the vital I-95 corridor.
Premier Trailer Leasing's newest branch in Savannah, Georgia, will enable Premier to provide exceptional equipment and service for our clients and their customers in one of the fastest-growing freight hubs in the nation.
Premier service at the Port of Savannah and surrounding area
The Port of Savannah is ranked the third-busiest gateway for global sea trade in the U.S., after only Los Angeles/Long Beach and New York/New Jersey. Fueled by growth in both imports (up 27%) and exports (up 19%), the Port of Savannah grew 23% from 2016 to 2020. Our new Savannah location is strategically positioned 20 minutes from the seaport and 10 minutes from the airport.

Serving Savannah with experienced seaport-based management
Savannah Branch Manager, Tracey Willis, brings 20 years of industry experience, notably with extensive knowledge of the particular demands of port-based supply chains. "I'm looking forward to helping new and existing customers ‒ and, in turn, their customers ‒ from our branch in Savannah," she said. "The rapid port growth has driven demand for short- and long-term rentals for equipment including dry vans, reefers, flatbeds and chassis, where Premier excels."
Premier's advantages help meet demand in the local and regional supply chain
The Savannah branch will help customers optimize their fleets and streamline the distribution process through Premier's hallmarks of flexible service, late-model equipment and cutting-edge technology. Local access to equipment will facilitate the growing supply chain revolving around the port and the I-95 corridor. Fewer miles for pickups and returns add convenience and reduce overall transportation costs, reducing drive time for drivers as well as decreasing mileage costs.
Premier's Southeastern presence
Premier's local branch in Savannah joins our existing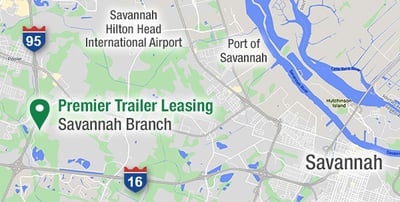 locations in Atlanta, Tampa, Orlando, Charlotte, Greenville and Richmond to provide strategic coverage throughout the Southeast.
In addition, Premier's nationwide footprint provides customers flexibility regarding pickup and return locations.
Premier's Savannah branch is ideally positioned to take advantage of the surging demand of the I-95 transportation corridor. Interstate 95 serves more than a third of the U.S. population. With a length of 1,908 miles, I-95 is the longest north–south Interstate highway, passing through 15 states and the District of Columbia. The U.S. Department of Transportation projects that truck transportation in the corridor will double by 2040. Interstate 16 was constructed to complete a high-speed route from Atlanta to I-95. Our Savannah branch offers convenient access to both I-95 and I-16.
We're here for you…wherever you are
Premier's convenient network of 36 locations, broad inventory of nearly 50,000 trailers and attentive, flexible service can benefit your operations in the Southeast or anywhere throughout the country. Contact us today and give us a chance to be your true partner in trailer leasing!