Premier will partner with you to develop a flexible, demand-driven solution.
Optimizing the size of your trailer fleet is never a one-and-done process. Because the right fleet size today probably won't be right tomorrow. Or next month. Or as soon as your customers' needs change. But it doesn't have to be one crisis after another. As opposed to trailer ownership, leasing and rental can give you flexibility to tailor your fleet according to immediate and anticipated needs.
1. Renting: ideal for immediate and short-term needs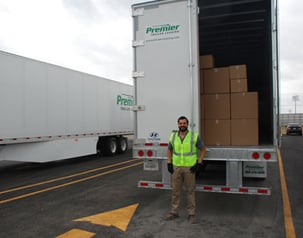 Trailer rental is the most effective solution for most short-term or even mid-term needs.
If you need to quickly boost your fleet size or acquire trailers of a different type to meet a particular requirement for a customer, rental is the answer. Generally, you can rent a trailer as long as you need it, and simply return when you no longer need it. Rental payments are fixed and are usually treated as an expense on a company's income statement.
2. Leasing: add trailers without adding worry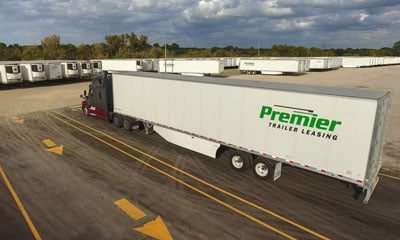 Leasing is ideal when you need to increase the size of your fleet for a specific time frame. When you sign a contract with a significant customer, leasing allows you to add the number and type of trailers you'll need, and you can arrange the time frame of your lease to match the term of your customer contract. You may even be able to include trailer maintenance and service and physical damage coverage in your agreement, removing the concern about unpredictable and sizeable expenses and assisting you in budgeting expenses over the term.
If you rent more than three times a year or have had rentals for more than three months, switching to a lease can offer additional savings. Leasing often has the lowest upfront cost of any method of acquisition. As with rentals, lease payments are fixed and treated as a business expense.
3. Owning: traditional, simple and straightforward — to a point
Trailer ownership is the go-to approach for nearly every operator. You have complete control over every aspect of your trailers. You also have complete responsibility.
Purchasing trailers is simple, as long as you have the credit and the trailers are in a dealer's inventory. In some cases, you may have to wait on a manufacturer lead time of several months, which is the current environment as we're entering 2021.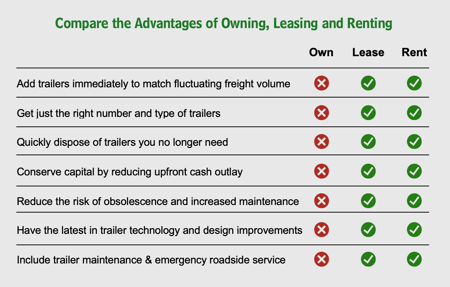 Any trailer will need maintenance which, when done properly, is a significant expense. Stephane Babcock of HDT Truckinginfo explains that proper trailer maintenance includes not just the obvious major items, but numerous parts and systems that might not be top of mind for many operators. She notes, "A good maintenance program needs to ensure that your trailer is up to snuff. But because trailers are often out of sight, out of mind, there are several areas that are often overlooked."
With trailers you've owned for a while, you may find that you're hindered by the lack of newer safety features, technology or fuel-mileage aids. Industry standards can change. Operating costs often increase with a trailer's age. Writing in Fleet Owner, Michael Roeth noted, "The reality is that operating costs of older assets can be significantly higher than those of newer assets. Older assets likely will need more maintenance . . ."
Changing market conditions and inconsistent freight requirements also pose a risk for fully owned fleets. If demand drops, idle trailers generate no revenue and are a drain on the company with insurance, registration and permits. Renting or leasing equipment offers the flexibility to scale your fleet up or down with fluctuating demand.
Finally, disposing of trailers you own is always an uncertainty. You may face the need to sell some of your trailers to provide needed funds, only to discover that the market for used trailers is oversupplied because other operators are trying to do the same thing.
The optimum solution: leveraging each option to your greatest advantage
The different options each offer distinct characteristics. You can take advantage of the strengths of each to structure a trailer fleet that cost-effectively provides stability, versatility and flexibility. So how do you achieve that?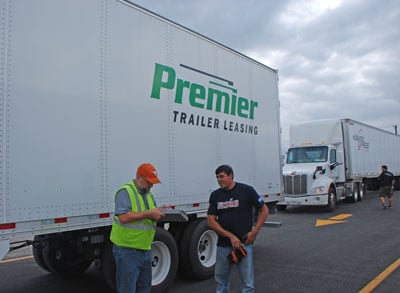 You need a partner, not a vendor
Talk to the industry experts at Premier Trailer Leasing. We will take time to understand your business and your exact needs before making any recommendations or trying to sell you anything. Together, we can develop a custom trailer fleet solution that's best for your business.
Partnering with you, Premier will review your current fleet inventory of owned, leased and rented trailers. Based on your experience and available telematics data, we'll assess trends in demand incorporating seasonality, geographic dispersion, trailer type and customer mix. We'll consult with you regarding current and future needs.
The result is a flexible, demand-based plan specifically for your fleet that can optimize your trailer fleet size, trailer type and operating costs, with flexibility to meet fluctuating demand. It can change a would-be crisis into an anticipated contingency.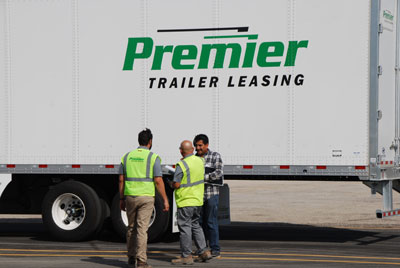 Get the right trailers
Premier has a large inventory of nearly 50,000 dry vans, flatbeds, refrigerated equipment, lift gates and chassis available at convenient branches located across the U.S.
Premier has a trailer to meet your needs, whether it's over-the-road, cartage, or storage, each well maintained and in excellent condition. Our late model trailers are equipped with the latest technology so you can track your trailers, monitor their cargo, minimize empty back hauls, optimize routing and keep your drivers on the road more. With Premier, your contract can also include all normal maintenance and 24-hour roadside emergency service.
More important, the right people
At Premier, we can confidently say that our people make the difference. Our branch managers have an average of 15 years of experience in the semi-trailer leasing industry. We take pride in being caring, flexible and easy to work with. We want to do more than simply provide trailers. We sincerely believe your success is our success.

"When you get right down to it, Premier is more than just a trailer leasing company. We've developed a culture of consultation and partnership with our customers."

– Bill von Kessel, Vice President

When you work with Premier, together we'll consider every aspect of your trailer fleet operation to determine how to use the industry's most powerful resources, tools and technology to manage and operate your trailer fleet most efficiently and cost-effectively. Contact us today and give us the chance to be your partner for the long haul.